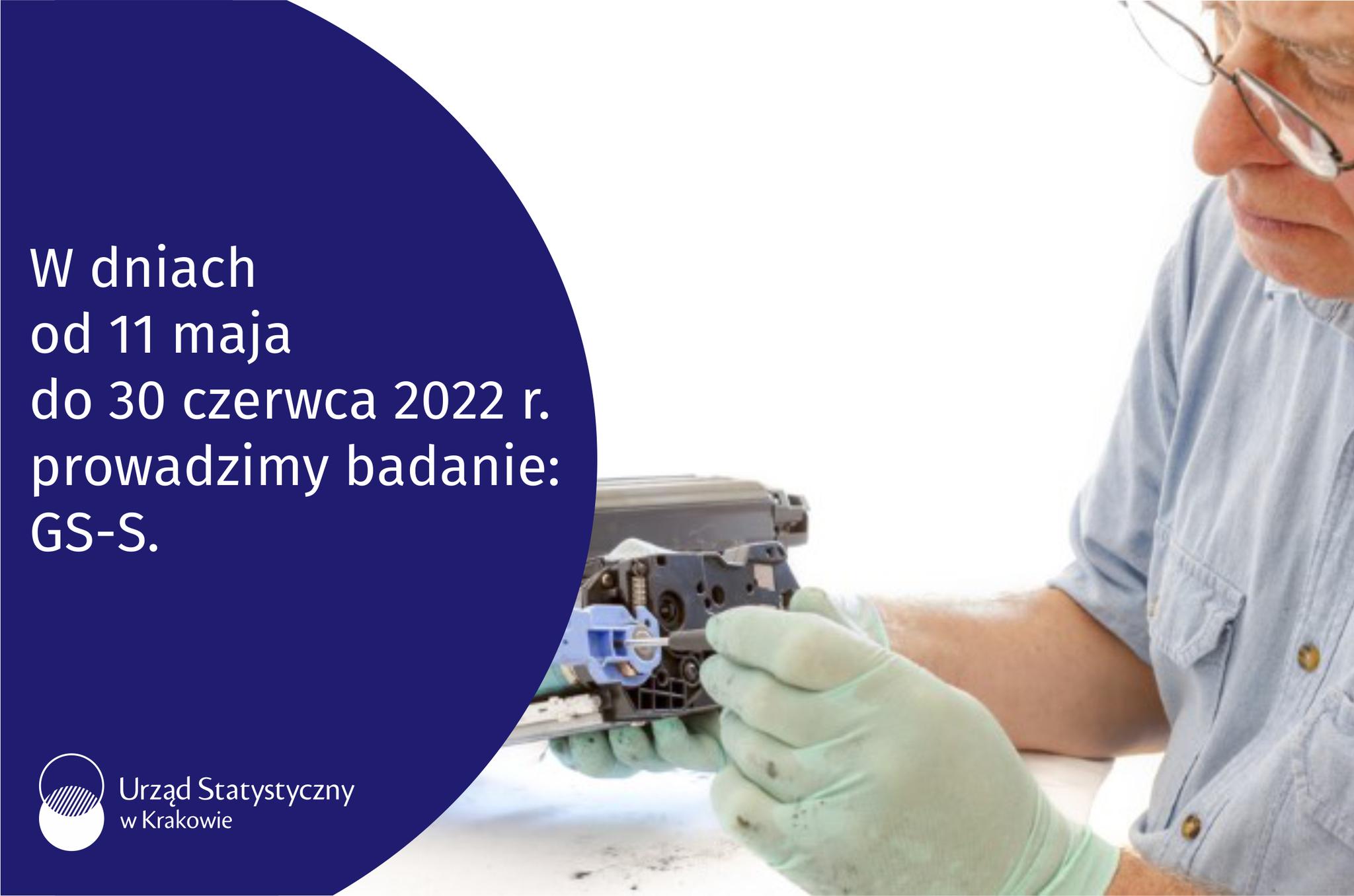 Urząd Statystyczny w Krakowie realizuje badanie na formularzu GS-S Sprawozdanie o działalności spółdzielni: pracy, socjalnych, inwalidów i niewidomych.
Badanie zostało wpisane do Programu badań statystycznych statystyki publicznej na rok 2021 pod nr.: 1.04.09 Działalność integracyjna podmiotów gospodarki społecznej.
Badanie ma charakter obowiązkowy - obowiązek przekazywania danych wynika z art. 30 ust. 1 pkt 3 ustawy z dnia 29 czerwca 1995 r. o statystyce publicznej (Dz. U. z 2021 r. poz. 955).
Obowiązujący termin złożenia sprawozdania to 30 czerwca 2022 r.
Badanie to stanowi najważniejsze źródło danych statystycznych o działalności wybranych rodzajów spółdzielni, które zgodnie z Krajowym Programem Rozwoju Ekonomii Społecznej objęte są definicją podmiotów ekonomii społecznej. Dane służą do określenia roli sektora spółdzielczego w gospodarce oraz życiu społecznym współczesnej Polski. W celu uzyskania wiarygodnych wyników ważne jest, żeby w badaniu wzięły udział wszystkie podmioty.
Dzięki zaangażowaniu spółdzielni w badanie możliwe jest wydawanie publikacji "Spółdzielnie jako podmioty ekonomii społecznej", które do tej pory opublikowane zostały za lata 2017 i 2019 - link
Na wszelkie pytania związane z badaniem chętnie udzielą odpowiedzi osoby realizujące badanie:
Dla jednostek z terenu województwa:

Osoby do kontaktów ze sprawozdawcami

Telefon

E-mail

dolnośląskiego

Agnieszka Miś

Agnieszka Domagała

539 671 547

532 398 899

This email address is being protected from spambots. You need JavaScript enabled to view it.

This email address is being protected from spambots. You need JavaScript enabled to view it.

kujawsko-pomorskiego

Beata Włodarczyk

Sosnowski Michał

795 466 657

539 671 542

This email address is being protected from spambots. You need JavaScript enabled to view it.

This email address is being protected from spambots. You need JavaScript enabled to view it.

lubelskiego

Małgorzata Śliwoń

Małgorzata Lenart

12 36 10 243

532 398 885

This email address is being protected from spambots. You need JavaScript enabled to view it.

This email address is being protected from spambots. You need JavaScript enabled to view it.

lubuskiego

Anna Fediuk

Małgorzata Lenart

12 33 49 854

532 398 885

This email address is being protected from spambots. You need JavaScript enabled to view it.

This email address is being protected from spambots. You need JavaScript enabled to view it.

łódzkiego

Beata Marek

Małgorzata Lenart

12 36 10 101

532 398 885

This email address is being protected from spambots. You need JavaScript enabled to view it.

This email address is being protected from spambots. You need JavaScript enabled to view it.

małopolskiego

Katarzyna Szydło

Agnieszka Miś

539 671 543

539 671 547

This email address is being protected from spambots. You need JavaScript enabled to view it.

This email address is being protected from spambots. You need JavaScript enabled to view it.

mazowieckiego

Halina Kolawa

Artur Pacułt

18 330 49 22 18 330 49 17

This email address is being protected from spambots. You need JavaScript enabled to view it.

This email address is being protected from spambots. You need JavaScript enabled to view it.

opolskiego

Małgorzata Kwiecień

Agnieszka Miś

795 470 274

539 671 547

This email address is being protected from spambots. You need JavaScript enabled to view it.

This email address is being protected from spambots. You need JavaScript enabled to view it.

podkarpackiego

Agnieszka Oleniacz

Aldona Marchewczyk

539 671 544

882 345 405

This email address is being protected from spambots. You need JavaScript enabled to view it.

This email address is being protected from spambots. You need JavaScript enabled to view it.

podlaskiego

Agnieszka Pawlik-Ostrowska

Małgorzata Lenart

532 398 889

532 398 885

This email address is being protected from spambots. You need JavaScript enabled to view it.

This email address is being protected from spambots. You need JavaScript enabled to view it.

pomorskiego

Agata Kalinowska

Sosnowski Michał

539 671 548

539 671 542

This email address is being protected from spambots. You need JavaScript enabled to view it.

This email address is being protected from spambots. You need JavaScript enabled to view it.

śląskiego

Zuzanna Kurczab

Agnieszka Miś

539 671 546

539 671 547

This email address is being protected from spambots. You need JavaScript enabled to view it.

This email address is being protected from spambots. You need JavaScript enabled to view it.

świętokrzyskiego

Aneta Niemiec

Agnieszka Miś

539 671 545

539 671 547

This email address is being protected from spambots. You need JavaScript enabled to view it.

This email address is being protected from spambots. You need JavaScript enabled to view it.

warmińsko-mazurskiego

Jolanta Ścibior

Małgorzata Lenart

539 671 540

532 398 885

This email address is being protected from spambots. You need JavaScript enabled to view it.

This email address is being protected from spambots. You need JavaScript enabled to view it.

wielkopolskiego

Monika Pogonowska

Dorota Lamot

795 470 586

795 497 364

This email address is being protected from spambots. You need JavaScript enabled to view it. This email address is being protected from spambots. You need JavaScript enabled to view it.

zachodniopomorskiego

Beata Balachowska

Barbara Pawela

795 471 562

532 086 579

This email address is being protected from spambots. You need JavaScript enabled to view it.

This email address is being protected from spambots. You need JavaScript enabled to view it.